LGBTQ+ Nightlife
Portland has no shortage of LGBTQ-owned and -friendly bars and clubs. Whether you're looking for a relaxing night with friends, a high-energy dance party or a drag show, Portland delivers.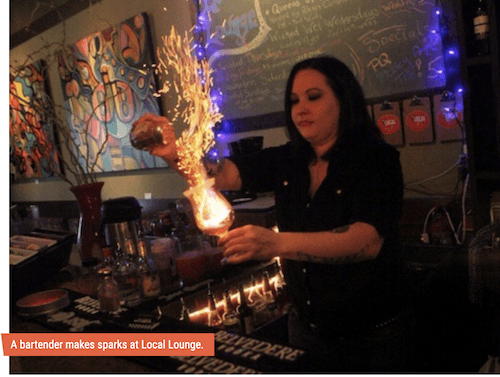 ""Mississippi"
This section was produced in collaboration between Travel Portland and PQ Monthly, dedicated to serving the LGBTQ+ communities of Oregon, Washington and the Bay Area. PQ Monthly is published on the third Thursday of every month and updated daily online.

Bars & Clubs
CC Slaughters
This downtown dance spot also hosts a Sunday-night drag show.
Crush
From brunch to dance nights to fashion shows — this laid-back lounge offers something for everyone.
Darcelle XV Showplace
Darcelle XV and her troupe of talented female impersonators have been entertaining diverse audiences for decades.
The Eagle Portland
Portland's leather bar and home base for the Oregon Bears has also been known to put on a lesbian night.
Escape Bar & Grill
Northeast Portland lesbian/mixed bar with a full menu and daily happy hour.
Florida Room
This North Portland bar is a popular hangout for both hipsters and queers.
Hobo's
This restaurant and lounge is popular with gay men and their friends.
Holocene
A popular indie music venue, Holocene also hosted one of the city's longest-running dance parties, Gaycation (ended in winter 2016).
Local Lounge
This Northeast Portland bar is gay-owned but committed to bringing together everyone in its diverse neighborhood.
Scandals
A Stark Street landmark, Scandals offers a cruising-friendly sidewalk café during the warmer months.
Silverado
In a city that loves its strip clubs, Silverado is the only bar featuring exclusively male dancers.
Vault Martini
This affordable but upscale bar has a sizable gay clientele.
Vendetta
This gay-owned neighborhood bar off of North Portland's Williams Avenue hosts popular LGBT events once a month.
---
Dance Nights
Blow Pony
Hosted at the historic Bossanova Ballroom, this bash has been known to draw celebs like Jakes Shears and John Cameron Mitchell. Fourth Saturday of the month.
Bridge Club
The city's self-described "queer collective of DJs, artists, promoters, socialites and designers" descends upon Produce Row Cafe for laid-back mingling. First Sunday of the month from late spring to early fall.
CAKE
This "trans/queer/all-inclusive hip-hop dance party" happens at Killingsworth Dynasty in North Portland. Second Friday of the month.
Club Kai-Kai
This queer dance party is held at the goth- and horror-themed dance bar Lovecraft. Fourth Friday of the month.
Hot Flash/Inferno
This bimonthly, age-diverse bash heats up karaoke hot spot Trio Club by offering up  female- and trans-only dances. Dating back 10 years, it's known for retro music and zero attitude. Second Saturday of the month at Trio Club and fourth Saturday of the month at Bossanova.
Jump Jack Sound Machine
This body-positive, gender-bending fete at Mississippi Studios is perfect for "art darlings and audiophiles." Second Saturday of the month.
Lez Do It
Founded in 2015, this inclusive party for "dykes and friends" welcomes everyone who identifies as a dyke to Killingsworth Dynasty. First Friday of the month.
---