Super at Hosting? We Want You!
Join the FabStayz Community of inclusive accommodations, add your listing below.

FabHost Introductory Offer
1 Year $39.99
FabHosts around the world share our mission of inclusive accommodations and fabulous travel experiences!
Be Featured 365 Days
Limited time offer
Only $3.33 a month
$39.99 for one year per listing, no commission fees
FabStayz powered by Houfy
TWO SUPER SIMPLE STEPS!
Provide us your listing URL from Airbnb, Vrbo or HomeAway
1. We Upload Your Listing Details
FabStayz TechTeam Imports:

Entire description

Guest reviews

Cleaning fee

All pictures

Base price

Rules
2. You Make Changes & Updates

Secure your account

Sync calendar

Update pricing as needed
How We Promote FabHosts
Social media, videos, blogs, LGBTQ+ travel influencers and digital marketing are just some of the ways we show off welcoming inclusive FabListings around the world.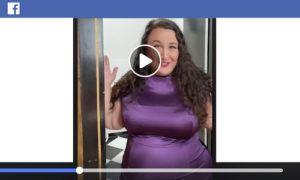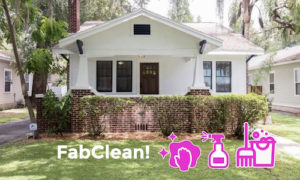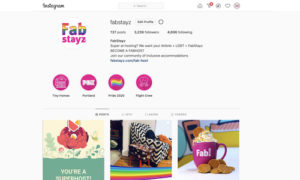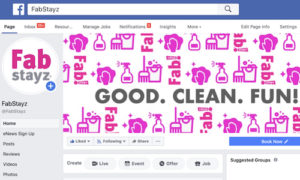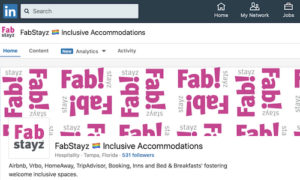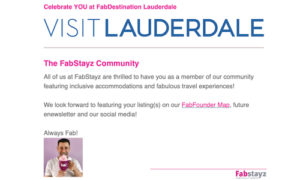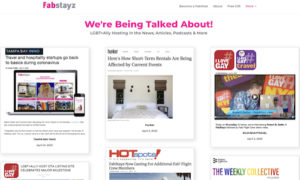 The FabStayz Community
Welcoming Inclusive Accommodations
Travel should be fun and fabulouse for all, be recognized as a FabHost whether you're a member of the LGBTQ+ community or a supportive FabAlly!
FabTravelers Rock!
$220B Travel Niche
Loving a sense of adventure the LGBTQ+ community travels twice as much as the general public.*
And we are brand loyal to those supportive to our diverse community.*
* CMI Community Marketing & Insights
LGBTQ folk are historically resilient travelers, in the face of everything from terrorism to recessions to pandemics†
† Skift, May 27, 2020
Uniquely Qualified
Everyday we review new host inquiries, verify each listing and only approve those that check off all the FabStandards & Requirements.

FabStayz diversity & inclusion statement fostering welcoming inclusive spaces.

Minimum 5 months hosting experience on a major platform such as Airbnb or Vrbo.

Great to excellent reviews.

Financial commitment supporting the FabStayz platform.
'FabStayz powered by Houfy' what does that mean?
FabStayz powered by Houfy beta v1.0
FabStayz, a scrappy startup founded in 2019 partnered with Houfy.com the same year utilizing their emerging platform and technology to deliver dynamic search results and easy to navigate listings.
Exclusive to Houfy is the ability to import all listing details, description, reviews and images saving FabHosts the task of creating a whole new listing!
Both FabStayz and Houfy are early stage startups, the new kids on the block, collectively and individually disrupting the billion dollar accommodations space!
Who doesn't love a David vs Goliath story right?
FabStayz recognizes LGBT+Ally hosts fostering inclusive accommodations removing anxiety, wondering if the host or property is truly welcoming. The FabStayz platform is funded in part by FabHost subscriptions.
Join us as an early adopter as we collectively build the FabStayz Community!
How long does it take for my listing to appear on FabStayz?
The FabTech Team will typically have listings uploaded and verifeid within 3 – 5 business days.
Can I do direct bookings?
Absolutely! You're in control, you decide how you want to process bookings; direct it to Airbnb, Vrbo, HomeAway or Direct Booking powered by Houfy.
Houfy was built for direct bookings where you connect your own Stripe or Square account and control your direct bookings.
We have FabStayz powered by Houfy videos and easy to follow instructions to assist!
How do I get paid for bookings?
FabStayz does not process payment nor take a percentage of bookings.
On FabStayz beta v1.0 you choose how you get paid; your FabListing can direct the bookings to your Airbnb, Vrbo or HomeAway account OR utilize Houfy's direct booking features where you utilize your own Stripe or Square account.
The choice is yours!